UNDER THE INFLUENCE
Silence of the Lamb Chops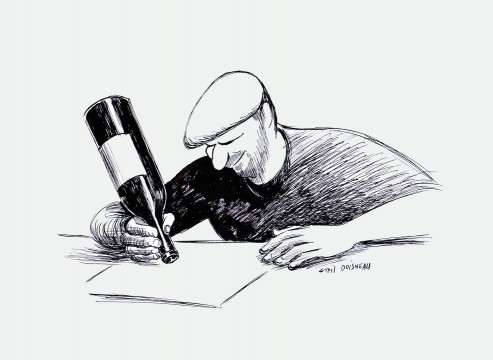 Silence of the Lamb Chops
The weather was lovely last weekend so I decided to grill some païdakia, Greek-style lamb chops that are cut thin with lots of fat left on. But first, I had to buy them. I would need to go to the nearest Greek butcher, JPA on St-Roch in Parc-Ex. I hadn't been to many stores since COVID-19 broke out, so I was a little nervous. But the urge for grilled lamb was greater than the fear of death, so I donned my mask and set out on my bike bright and early to avoid any crowds.
I got there just in time. I was the first one in the store so I relaxed a little and went straight for the meat counter where Vassili, the butcher from Central Greece (home of the best grilled meat!) was struggling to put his mask on, cursing profusely.
"What can I get you?"
"12 païdakia please. And I'll also take half a pound of strained yogurt, and a pound of Feta. The Greek one, not that shit from Toronto."
He shot me an intense look, eyes smouldering just above the surgical mask everyone should be wearing these days. "Why the hell would I sell you anything but Greek Feta?"
I felt relieved to be home. Shopping isn't as fun as it used to be. OUF. I gave the lamb chops a quick marinade. A little olive oil, salt and pepper, fresh thyme. Now listen up: NO LEMON or any other acid in the marinade. This transforms the texture of the meat. Use lemon AFTER you have grilled them, if you desire. I lit my fire, and tackled the Tzatziki and the salad.
I grated 2 small cucumbers, drained the excess water by pressing down on the emerald flesh with a spoon in a colander, added a bit of salt, and threw it into my yogurt. I drizzled in a bit of olive oil and added some minced garlic. I tossed a few cherry tomatoes into a bowl with a bit of onion, olive oil, red wine vinegar, dried oregano and a massive chunk of Feta. The mise en place is done, and the coals are hot. Time to grill. But first: What do we drink?
The evening was warm, so my thoughts turned to a Thymiopoulos rosé de Xynomavro. I probably had some back vintages in my cellar (TIP: always age your rosé for a year in the cellar. It is so much better! The adolescent anxiety that rosé has from short macerations, short elevage and quick shipment is calmed down by a little nap in the cellar). Bingo! I had 2015 left! I crack one open, still vibrant, bright, tasted like walking through a field of strawberries on a summer day. Perfect.
I throw the chops on the grill, that sizzle always gets me excited in more ways than one. I like to grill them at high-heat to get a good char and to singe the fat. Just a minute or 2 by side, then onto a platter, a dusting of dried oregano, and a squish of lemon. Voila. Served with the tzatziki and salad, it was pure joy. It did however, make me very nostalgic for Greece. My trip was cancelled this year, so my backyard in Parc Ex is my Taverna. I realize that the first bottle of Thymio Rosé has been drained, so I got another one. The chops were glorious, lip-smacking good, eating them with my hands and grunting like some Cro-Magnon.
After dinner, I had a little Blue Dream (Sativa) and John Coltrane with the last drops of rosé. I decided to lie down and listen to Dark Side of the Moon, like I have hundreds of times. The lamb was delicious, but for some reason, I kept getting images of Anthony Hopkins's face grinning in my head. I guess I've been a little stressed these days.