UNDER THE INFLUENCE : THERE ARE ONLY TWO KINDS OF WINE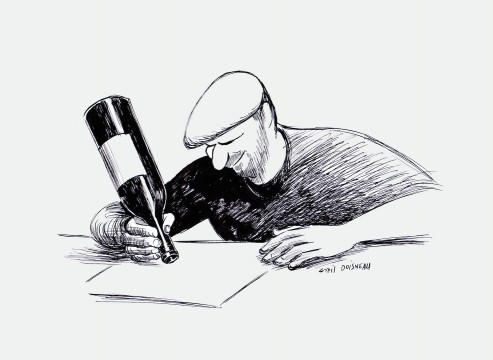 It's impossible to calculate the amount of times I've participated in heated discussions about wine. My head hurts just thinking about it: the countless hours debating the merits and faults of a particular bottle, or the philosophy of a certain producer that ends up overshadowing the pleasure that the bottle is offering (or not). Don't get me wrong, I love to discuss, argue and debate, but sometimes I walk away thinking, "Jeezus, it's only fermented grape juice and World War III broke out over dinner."
But wine IS serious business, both literally and metaphorically. No doubt. It is obviously more than a comestible product. Its cultural, economic and political impact has been important since the dawn of civilization. I'm immersed in the details of the day-to-day aspects of getting good wine to the table and they are complex and intriguing. I'm also the first guy at the table to start boring others with the finer points of artisanal versus industrial wine, but I have gotten better over the years and let others start the polemic. Questions like "Is Chenin Blanc a more versatile grape than chardonnay?" or "Does blocking malolactic fermentation take away from varietal typicity?" and my favourite of all time "Does a natural wine have to be sans soufre?" can really throw a wet towel on an otherwise great dinner party. And then there is the convoluted practice of scoring wines. Pity the fool who says he doesn't like the wine but it got 94 points! These days, I'm leaning towards keeping my big fat mouth shut during the conversations and simply focusing on the wine in my glass. After all, trying to win a debate about which is better can be ridiculously futile. Ultimately, taste is subjective, no?
Which brings me to my point. The one question I find essential in discussing wine is a very simple one: Do you like this wine? And I think that ultimately, it is the most important one. For everything else is superfluous if YOU DO NOT LIKE IT. Is there anything more fatiguing than listening to someone pontificate about a wine's merits for 20 minutes whilst you quietly say to yourself, "This wine sucks!"? I think not. And what about the dude who is destroying the pleasure you are getting out of a nice glass by saying, " Too bad he harvests during a waxing moon!" What a downer.
So at the risk oversimplifying a complicated subject, I have come to believe that there are only two kinds of wines The wine you like, and the wine you like less. Everything else is detail and I will let you and your friend at the dinner table decide how much you want to engage!
Santé,
Theo