Under the Influence
22 décembre 2018
Under The Influence : The Ted Steele Guide to Wine Drinking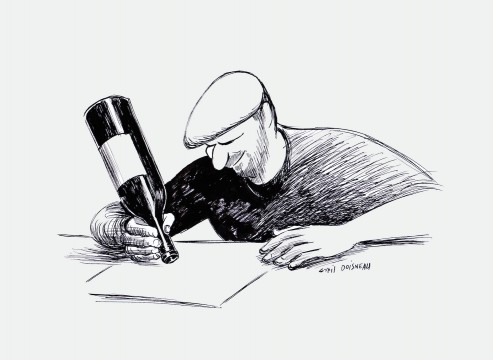 Friends,
It is that time of year when people make lists, so here is mine !
A short guide on when and why to drink wine, by no means exhaustive. Happy holidaze everyone !
1.

While deciding how to approach a gorgeous stranger

2.

With an immense plateau de fruit de mer

3.

While the lamb shank is braising

4.

While contemplating the difference between Gravlax and Smoked Salmon

5.

Because hockey/baseball/football/basketball sucks

6.

While re-writing your fake CV

7.

While shucking wild oysters from PEI

8.

While practicing a new language with an old friend

9.

With a perfectly cooked onglet, à la Richard Olney

10.

While building the BBQ pit for your pig roast

11.

While marinating the chicken in jerk spices

12.

While deciding whether to serve Prosciutto di Parma or Jamón de Pata Negra

13.

While simmering Ragù Pugliese

14.

While listening to John Coltrane jamming with Miles Davis

15.

While watching Pink Floyd in Concert footage on YouTube

16.

While reading the liner notes of a Leonard Cohen song

17.

While watching the 12th episode of The Wire in a row 

18.

While considering what Werner Herzog would do

19.

While reading Micheal Ondaatje

20.

While watching Zorba the Greek by Michael Cacoyannis on Christmas morning

21.

While watching your lover trying on a sexy dress

22.

With goosebumps

23.

While planning your dream home

24.

With a blanket on a stormy beach

25.

While in a funky mood

26.

With the hottest date ever

27.

When there is nothing better to do

28.

Because it is the only thing that matters

29.

Because, why not?

30.

Because you can't stop thinking of him (her)

31.

While the heat wave has you all excited

32.

Because it's too cold outside to care

33.

With a perfectly seasoned Steak Tartare

34.

Because she/he has you drinking heavily again

35.

Because it's Monday (or Tuesday)

36.

With a new friend, who has never tried the wines of Bruno Schueller

37.

While reading The Old Man and the Sea

38.

While you choose the ultimate playlist for Saturday night

39.

While listening to a reggae compilation recorded between 1979-82

40.

While waiting for the weekend to start/end

41.

While devising the ultimate menu for him/her

42.

Because life is too short

43.

Because the park has beautiful trees and green grass

44.

Because she has emerald eyes

45.

Because  Lou Reed is playing in the background

46.

Because Fela Kuti IS THE BEST

47.

While watching Klaus Kinski throw a fit on the screen

48.

While leafing through Inspiring Thirst by Kermit Lynch

49.

While dreaming of her/him

50.

Because TED STEELE SAYS SO !