Under the Influence
6 juillet 2018
UNDER THE INFLUENCE : That First Glass of Memorable Wine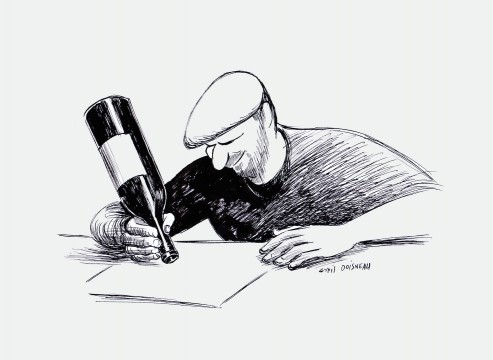 I am blessed to work in an industry that I love. I am also fortunate enough to taste on a regular basis wines that range from modest vin de soif that are guzzled while opening the next bottle, to glorious bottles of rarities that you open with the best of friends and usually with the most foolish of intentions.
I believe that the pleasure of wine stems as much from the context in which we enjoy it, as well as the quality and beauty of each individual bottle. To wit: did I really have to open that bottle of Bruno Schueller's Le Chant des Oiseaux 2005 at 2 am after pounding back a dozen or so bottles with friends over an elaborate meal and a big bowl of Moroccan hashish? I think not. But the moment was perfect for it. And damn that bottle was memorable. Through the haze of the evening, I remember a delicate bouquet of Pinot Noir more reminiscent of a Chambolle-Musigny than Alsace. Pretty flowers after a spring shower. Ripe berries and truffles from a thickly-wooded hillside. And that electric palate. Thank you Zeus! But it was fragile and we saw it fall apart like a castle made of sand. For a few minutes we oohed and awed around the table like children. Fuck that was a great bottle.
My first glass of memorable wine left such an indelible mark on me that I rank it up there with losing my virginity. Very special indeed! It was with my uncle Dimitri in the small hamlet of Parori, Livadias in the valley of majestic Mount Parnassos in Central Greece. It was the summer of 1980, I had just turned 16 and was spending the months of July and August working with my dad's family who had fields of cotton, wheat and tobacco as cash crops, and olive and fruit trees, animals and an immense garden for personal consumption.
My uncle also had about a hectare of grapevines to make a barrel or 2 of wine every year, a field blend of Savatiano, Roditis, and a red grape he simply called mavroudi, the name they give to all red grapes they can't identify. It was a rosé of sorts. He picked all 3 grapes at the same time, trod them by food in a cement tank and drew of the wine after about 2 days on the skins. He had an ancient-looking barrel that he would fill and plug with a piece of wood and some pine resin, which invariably flavoured the wine. He would start drinking it during the first spring after the harvest. It was his pride and joy and claimed that it was "the best wine from here to Lamia!", a small town of no real consequence about 45 km away. It had a copper sheen which I can still remember clearly today, because many years later, I had a bottle of Lopez de Heredia Rosato and its colour reminded me of uncle Dmitri's wine. The palate was another thing altogether.
I remember very clearly the scent of herbs and resin, with a fruit that was clearly oxidized (nutty) and a whiff of acetate that I came to know as volatile acidity later on. It was very refreshing because we drank it in large quantities at the lunch and dinner table (my uncle was always freaking out that his wine would run out before the next batch, which it did). But what I remember most was the first time I got wasted on it.
My uncle was repaying a friend who had helped him irrigate his cotton field by taking him out hunting for porcupine. My aunt had packed a picnic of sorts of bread, olives, cheese, tomatoes and cucumbers and I saw my uncle haul a jerry can into the back up of his pick up truck. I thought it was fuel. "WINE!" he exclaimed, like a modern day Zorba, "Tonight we shall DRINK!"
We drove into a harvested field of wheat and parked. He and his friend walked off to dig a fire pit. They filled it with wood, lit it and put rocks on the coals. I asked what it was for. "The porcupines! We will roast them in the pit, Kleftiko-style!" When nightfall came he turned on his headlights, loaded his gun, and poured us large glasses of his nicely chilled rosé. We stared out into the field with 2 beams of light penetrating the darkness. I had already downed 2 glasses and I was tight. I felt very nervous because if I understood correctly we were going to eat porcupine. I wanted to go home. Suddenly, my uncle cries out "there's one!" and shoots off a round of buckshot. Sure enough, the porcupine being nocturnal came out to the lights and quickly met his creator. My uncle gutted him, threw him into the pit and covered it with dirt. "There, see you later!"
We broke out the snacks and waited for the porcupine to roast. We ate and drank and laughed. We had a roaring good time. I remember staring into my glass with this wonderfully intoxicated perspective and thinking, "so this is it, wine, nectar of the gods!" I can still taste it. I cannot however recall tasting the porcupine. I got so wasted my uncle put me in the back of the truck and had me sleep it off. I will also recall that moment as my first massive hangover.
Such is life.
Santé,
Theo