ENCORE SOIF ?
8 septembre 2017
Under the influence - A Farewell to Haridimos Hatzidakis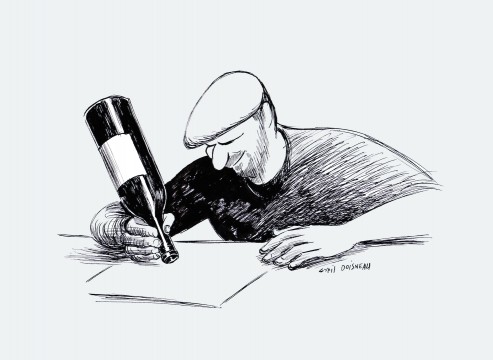 A Farewell to Haridimos Hatzidakis
I simply could not believe the tragic news that Haridimos Hatzidakis had passed away in early August of this year, on the first day of harvest. I had seen him just a few months earlier in Athens during the Oenorama wine fair. He was in very fine form, and over dinner with other winemakers and friends we had a brilliant time. The wine flowed and we all agreed that his 2016 assyrticos were some of the finest he had ever made. Ever. We left the restaurant laughing hard, smoking too many cigarettes outside in the cool spring air. It would be the last time we shared a glass of wine together.
---
I have many emotions to deal with, and they can be quite difficult because they involve the death of a close friend. So I write this piece in the spirit of humour and self-deprecation that Hari appreciated so very much…
---
I first met Haridimos in April of 2007 at a wine show in Athens. I had just started up oenopole and was deep into building my Greek portfolio. I was scouring the country for the best producers I could find and was struggling with decisions to make. I had to keep the list short. I was fortunate to meet Yorgos Ioannidis, a wine importer based in Paris who specialized in natural wines from Greece. We had coffee and hit it off immediately. We were kindred spirits.
---
"Have you tried Hatzidakis's wines?" Yorgos asks. "He is making wonderful wines on Santorini."
---
"No I haven't. Is he here at the show?"
---
"Yes he is, let's go."
---
Yorgos leads me to his stand. A handsome man with piercing blue eyes and a mischievous smile extends his hand for a firm shake and says, "You like assyrtico?"
---
"I do, but I haven't tried many."
---
He pours me glass of his Santorini 2006, a blend of parcels from all over the island. A pale gold colour shines through the glass. First nose of wet rocks, oyster brine. Swirl. Lemon confit, linden. Sip. Pure fucking electricity coursing through my palate. Structured. Bracing. Refreshing. Salty. Wow.
---
He poured more wine: a Nykteri which is a nod to the traditional winemaking of Santorini; a single vineyard called Mylos (he was the first one on the island to bottle single-vineyards), a red from a rare grape called Mavrotragano (also first one to do so) which tasted like a Barolo made with a Mediterranean vacation in mind; and a Voudomato dessert wine (he's the only one on the island to do this) and of course, Vinsanto, the nectar of the Gods that gave the Popes of the 11th and 12th century hard-ons.
---
I was blown away. I could not contain my excitement. "Will you work with me in Quebec?" I ask.
---
"Only if you come visit my winery in Santorini."
---
"Yes! I have time next week, will you be there?"
---
He nods, and pours me one last glass. " This is a special cuvee I am working on. It's called Cuvée 15. It sees a bit of skin contact."
---
Jeezus. I couldn't wait to visit him in Santorini.
---
I want my wine to make you feel healthy, happy.
"Here we are," says the taxi driver.
---
I look outside my window and see a run-down trailer, various parts and pieces of winemaking equipment, a picnic table strewn with empty bottles and a plastic shower curtain covering what seemed to be the entrance to a grotto hewn out of the lava of a hillside.
---
"You sure?" I asked, staring incredulously at the plastic shower curtain.
---
"Hatzidakis Winery you said? Here it is."
---
As I get out of the taxi, a dog comes running up to me, barking, but easily ignored. He wasn't menacing. The shower curtain parts, and Haridimos appears, all smiles.
---
"Yia sou Theo! Welcome!"
---
We enter the winery, which was a restored cellar used by monks on the island to make wine over many centuries. The walls are black with the legacy of god knows how may vintages. The place feels quite spooky, but in an endearing way. It is also not the tidiest of places I have seen.
---
In the many nooks of the cellar, I see one tank on its own, propped up in a corner, one leg missing but stabilized with rocks. Cuvée 15 is written on it in black marker.
---
"Hey, that's the crazy wine I tried in Athens. Why is that tank by itself in that corner?" I ask.
---
"Ah, because that corner of the cellar is very different from the others. Over the centuries, the yeasts have come to act differently over there, and it makes a different wine. So I want to bottle it separately. Oddly enough, few people ferment with wild yeasts here anymore, opting for selected ones. Most people filter, I am very adamantly against that. And don't start me on S02, too much is used, and I like to add only very little at the bottling. I want my wine to make you feel healthy, happy."
---
That was the beginning of an amazing relationship. Hatzidakis became synonymous with some of the greatest white wines of the Mediterranean. I remember the look on Loire winemaker Pierre Breton's face when he tasted Mylos for the first time at a show in Montreal where the two were pouring side-by-side. He looked at Hari, smiled and said "Putain. On parle de minéralité, mais ça, c'est autre chose!" Hari just nodded with that grin of his.
---
That was one of countless times his wines brought smiles to people's faces. He was a truly brilliant winemaker. He was a friend. A mentor. I will miss him deeply. Many others will too. His legacy will continue with his children, especially with Stella, who will take over the winery. We wish them luck, and wherever Hari is now, he is certainly smiling at them.
---
Farewell my friend, safe travels.