Under the Influence
8 août 2019
UNDER THE INFLUENCE : THE CURSE OF RETSINA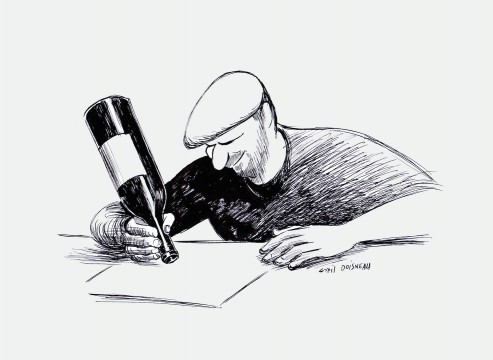 Retsina: A Much-Maligned And Little-Understood Wine
When I founded oenopole in 2005, the initial plan was to focus exclusively on Greek wine. I had discovered many artisanal producers and knew the market in Quebec was ready for an avalanche of wine from the historic terroirs of Greece. There would be Xynomavro from Naoussa, Agiorgitiko from Nemea, Assyrtico from Santorini, Robola from Cephalonia, Liatiko from Crete, and more. And while I adapted the business plan when I joined forces with my partners Aurelia and Alexis to include wine from Italy and France, Greece was, and still is a very important part of our portfolio and identity.
The first years of the business were super tough. We had all the classic barriers and challenges any start-up faces, but I had an unexpected challenge with the Greek portfolio due to an image it was associated with, that of cheap, industrially-made wine. In particular it was with what I came to call the Curse of Retsina. Everybody I spoke to immediately associated Greek wine with Retsina. And the association was always made with a face of disgust or at the very least, one of confusion. "Why the fuck would you import wine that smells and tastes like Pine Sol?" was the usual question. The SAQ had been stocking commercial Retsina for years, mainly Kourtaki, Cambas and the notoriously mediocre Malamatina, the crown-capped 500ml bottle, a wine that is very commonly served with Sprite in Greece.
I would try my best to explain the history and virtues of Retsina, but the story fell on mostly deaf ears. Trying to explain that not all Retsina tasted like varnish was tiresome and repetitive. I would have to hold off on importing Retsina for almost 15 years, waiting for the right moment to bring in in. The question is: how did we get here? The story goes something like this…
Origins, circa 2nd century BC
Retsina is traditionally the wine of Attica, home to the ancient Athenians. Savatiano was the grape grown by them, and still is to this day. They vinified and stored the wine in clay amphoras, and it was transported allover the Mediterranean basin as a commercial good on the ships that ferried to ports from the Middle East to the Straits of Gibraltar. They noticed that the amphoras sealed with pine resin from the Aleppo pine tree indigenous to Attica kept the wine from oxidizing or refermenting. In short, the wine did not spoil, as it was prone to do especially on lengthy journeys on rocking boats. Sealing ALL amphoras with pine resin became the norm, and it ultimately flavoured the wine. A new flavour profile was born.
Modern Times
By the early 1900s, most of the dry white wine of Attica and parts of the Peloponnese was flavoured with Aleppo pine resin. People would score the tree and collect the oozing blob of resin to be used during the fermentation of Savatiano grapes (Attica) and Roditis (Peloponnese). You could also throw some resin into the barrel during the raising of the wine.
Every tavern in the region served it, and many had their own homemade versions. Winemakers would go door to door to tavernas in horse-drawn carriages with big barrels of un-resinated wine to fill up the tavern's own barrels, which would then be dosed with the amount for resin they liked, effectively creating a "house-style" of sorts. Some liked it with lots of resin, others less. By the end of World War 2, this is what most of the Athens area, Central Greece and the northern Peloponnese drank.
Rise of the Machine
Two large wineries outside of Athens, Cambas and Kourtaki, were the major source of bottled white wine in the region. With the rise of tourism in Greece after the war, there was a demand for bottled wine to be shipped allover the country to supply restaurants, mostly on the islands. Of course, this wine happened to be Retsina, and it wasn't necessarily the best kind. Commercial wineries were pumping out volume, and for them, Retsina was a dream come true. The resin could mask defects in the base wine, like oxidation and volatile acidity. It also compensates for the lack of fruit in the wine due to the over-cropped Savatiano and Roditis vines that were being farmed to produce ridiculously large yields. The wine was by far and large a disaster. And to insult to injury, industrial Retsina was the most exported wine of Greece. The image millions of people around the world had of Greek wine was that of an inexpensive white that tasted like turpentine.
The New Retsina
The fact of the matter is that there has always been "good" Retsina, even GREAT Retsina. Drinking the stuff that is made by a handful of producers like Papagiannakos, Tetramythos and Kechris who keep yields low and use fresh resin in judicious amounts along with classic tavern fare is a phenomenal experience. Lesley Chesterman wrote an article on her trip to Greece and was blown away by the food that is washed down with Retsina. Charcoal grilled lamb chops with plenty of fat, doused in lemon and dried oregano with a good whack of salt is simply fucking amazing. All those dishes with garlic, herbs and bold flavours like skordalia (potatoes pureed with garlic) and taramosalata (fish roe spread) scream for Retsina, as well as any vegetable dish that is cooked in olive oil and yes, garlic. And if you think a classic Provençal Aioli is good with rosé, try it with with good Retsina and you can thank me later. But the pairing I find transcendental is a classic dish you get in Athenian taverns in winter, salt cod fritters with steamed beet greens and skordalia. A slam-dunk of pleasure!
We recently imported our first Retsina, that of Tetramythos. Winemaker Panayiotis Papagiannopoulos wanted to make an expression that harks back to the old days, so he uses old-vine Roditis fermented with pine resin collected in his vineyards from Aleppo pine trees and vinifies in terracotta amphoras. The result is wonderful. Discreet notes of garrigues, rosemary and conifer with a textured and bright palate. The finish has a tiny echo of the pine forest. It just arrived at the SAQ, so run for it.
Later this year, we are looking forward to bringing in the Papagiannakos family Retsina. Vassili's family has been farming Savatiano and making Retsina for over 100 years, and his style is also on the light-handed, elegant way for expressing the beautiful terroir of Attica. Now that Quebec has seen that Greek wine is more than Retsina, it is time to bring it in.
Enjoy!