Under the Influence
17 décembre 2019
UNDER THE INFLUENCE : THE GIFT OF WINE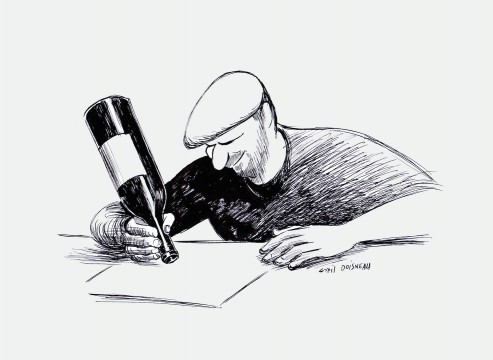 The Ted Steele Guide for Giving Wine
I think we can all agree that Christmas is a very stressful time for most people. Besides the fact that the weather has turned cold and we have to get our snow tires on and unpack all our gloves and boots, there is also the pressure of getting organized for that crazy time of year. You know, that time of year when you have to shop for presents. That sense of dread kicks in. Who gets what? And while we try our best to decide who was naughty and who was nice, decisions can be hard to make, and even more difficult to deliver. Allow me to give a helping hand, gentle reader, and present you with the Ted Steele Guide for Giving Wine, or in other words, How to Save Your Sanity During Christmas.
---
I honestly believe there is no better gift than that of wine, so here is a list of ideas for those certain people in your life. Let's do it!
---
The Adoring Wife
---
Is there any better way to show your love than by offering Champagne, and rosé on top of that?
---
Chartogne-Taillet, Champagne, Brut, Le Rosé - 12748673 - 72,00$
---
The Picky Husband
---
Even the most difficult men succumb to gorgeous Barolo. Even the tuff guys.
---
Principiano, Barolo, Serralunga d'Alba 2015 - 11387301 - 49,75$
---
Your Father
---
Alain Pascal named this cuvée after his father (Honoré), who was larger than life. I'm sure your dad is too.
---
Gros Noré, Bandol 2015 - 12930926 - 47,50$
---
Your Mother
---
From one classy lady to another. Claire's rare and delicious old-vine Aligoté.
---
Claire Naudin, Le Clou 34 2017 - 14190511 - 35,25$
---
The Difficult Father-in-law
---
Go old-school, classic of classics, with this Amarone that he will pair with his roast beef on Sundays.
---
Ca' la Bionda, Amarone Classico Superiore, Ravazoll 2012 - 13201451 - 80,75$
---
Your Mother-in-law
---
Always a tricky one, but a bottle of GREAT Prosecco will make her smile. Guaranteed.
---
Bisol, Conegliano Valdobbiadene, Cartizze 2017 - 12945853 - 49,00$
---
The Younger Brother
---
Give the Bro something cool, and deliciously dangerous.
---
Karim Vionnet, Beaujolais Villages 2018 - 13581318 - 23,25$
---
The Older Sister
---
Show sis' that you are a considerate and sensitive type, like Nicoletta Bocca who makes this amazing Dolcetto.
---
San Fereolo, Dogliani, Valdibà 2017 - 12647709 - 25,70$
---
Your 18-Year old Son
---
Just turned 18, teach him what natural (and affordable) wine is!
---
Tetramythos, Patras, Roditis 2018 - 12484575 - 15,80$
---
Your 18-Year old Daughter
---
I think the name says it all. Besides, show her the electric side of Chardonnay.
---
Domaine de la Cadette, Vezelay, Les Angelots 2018 - 12717084 - 29,40$
---
Your Grandchild
---
One day, he or she will grow up, and you will have an amazing bottle of wine ready. That bottle will be beautiful, like your grandchild.
---
Domaine de la Vieille Julienne, Chateauneuf-du-Pape, Les Trois Sources 2014 - 13039393 - 83,00$
---
Your Hipster Friend
---
Surf's up, dude. Time to get nice and funky.
---
Domaine Padié, Vin de France, Petit Taureau 2018 - 13113215 - 31,50$
---
Your Geeky Friend
---
This bottle will have your nerdy friend analyzing for hours! An orange wine aged in amphora, so much going on.
---
COS, Sicilia, Pithos Bianco 2017 - 12986428 - 44,50$
---
Your Best Friend
---
There is no better way to hang out with your best friend than with a bottle of Ivresse.
---
Catherine et Pierre Breton, Bourgueil, Nuits d'Ivresse 2016 - 13597521 - 37,00$
---
The Neighborhood Butcher
---
This will guarantee excellent cuts of meat every time! A rich yet fresh wine from Southern Italy.
---
Perrini, Salento, Negroamaro 2018 - 13913378 - 20,85$
---
The Neighborhood Fishmonger
---
Offer this, and your fish will always be fresh! From the shores of Santorini, a crisp and succulent white.
---
Argyros, Atlantis 2018 - 11097477 - 21,80$
---
Your Amazing Boss
---
This incredible bottle of Champagne drives from the slopes of Montgueux, which has inspired Manu Lassaigne to craft a unique expression of Chardonnay. Show your boss the best!
---
Jacques Lassaigne, Champagne, Extra-Brut, La Colinne Inspirée - 13486361 - 122,75$
---
Your Favourite Colleague
---
Show your favourite colleague something spectacular; a wine Arianna makes wine with passion, respect and artistry.
---
Arianna Occhipinti, Il Frappato 2017 - 13869451 - 51,25$
---
And most importantly, for Yourself
---
Indeed, do not forget to look out for yourself. It's important to treat oneself to something great from time to time. This year, Ted Steele is offering himself a bottle of Jean-Michel Stephan Côte-Rotie 2017 - 14213701 - 103,25$. Gonna keep it in the cellar for 2 years, and then crack it open for a Sunday dinner with the family.
---
Happy Holidays amigos!