Under the Influence
21 octobre 2019
UNDER THE INFLUENCE : DO'S AND DON'T'S, The Ted Steele Guide to Wine Fairs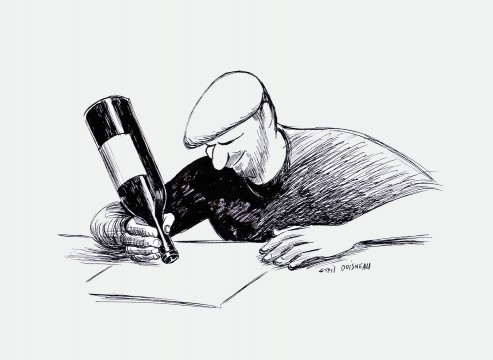 Do's and Don't's : The Ted Steele Guide to Wine Fairs
Greetings amigos! It's a wonderful time of year. Grapes have been harvested and pressed, ready to begin their journey into becoming that most delicious of beverages: wine. It also means an opportunity for winemakers to travel and promote their work, to meet their clients, and get a feel for what the buzz is in markets around the world. Late fall and winter is a great time for wine fairs, and there are many taking place in our fair city in the coming weeks and months.
---
One fair in particular that garners lots of praise and attention is RAW, a celebration of natural wine from allover the world. On October 24 and 25, over 100 winemakers will be pouring their wines to a captive audience. It is a truly great time to learn more about wine and enjoy the social scene that comes with it, and especially the opportunity to meet winemakers whose work you admire. But booze is involved, so it is easy to lose sight and in certain instances, control of the situation. I have been to my fair share of wine shows, both as an attendee and an organizer, and have seen a lot go down. Everything from the greatest experience to the biggest shit-show on earth takes place. I have compiled for you, dear readers, a short guide to keep in mind during RAW, and beyond.
---
Do's
Prep. Read up on the winemakers present and get a feel for what's happening. A little bit of homework goes a long way in getting the most of the show. It is always more fun to feel connected to what you are tasting.

Prioritize. Make a list of whom you want to see and what you want to taste in order of preference. Time goes by fast and you want to make sure you get a chance to taste your favourite stuff, especially before their samples run out!

Organize. Best to start off tasting whites only, then move to reds. It keeps the palate focused. Save dessert wine and spirits for the very end.

Come early. Try to get there at the opening, there tends to be fewer people and you will have more time to enjoy the show.

Spit. Yeah, spit. It's not a 5 à 7, so show some decency and decorum. Make a list of you favourite wines and come back to them towards the end to enjoy a bigger pour.

Take notes. They come in handy when you taste over 200 wines in one afternoon. You can keep a journal and compare notes over the years.

Ask questions (see number 1). Winemakers appreciate intelligent insight and curiosity. They have worked hard and it makes them feel good to hear thoughtful commentary.

Be polite. Wait your turn; smile, and say THANK YOU.

Have a bite. Make sure you have a meal before or during the show, and nibble on a bit of bread between tastings. It keeps you steady-handed, and clear-minded.

And most importantly, ENJOY YOURSELF. It is a celebration after all, so be cool, have fun and radiate a positive vibe.
---
Don't's
No cologne or perfume. You might have spent big bucks on your Chanel 5 or whatever, but who gives a fuck when you're neighbor is trying to appreciate the fine bouquet of a Grand Cru Riesling.

No self-service. This is pretty high up on the "how to earn the wrath of a winemaker" list. Patiently wait for your turn to be served. It does get busy at times, but resist the temptation to serve yourself. You are not at a buffet.

Do not loiter. You have been served? You have asked your questions and got your replies? Cool. Don't stand in front of the table with your friends shooting the shit, move along so others can enjoy a pour too.

Don't ask to try the high-end cuvees only. It's insulting. Professional courtesy has it you try everything the winemaker offers to pour. Do not thumb your nose at the smaller stuff!

Do not rinse your glass in the ice bucket! I have seen this too many times, it is obnoxious. Ask for water, or change your glass.

Do not ask to buy samples, or even worse, ask for free bottles. Even if you see that unicorn bottle in front of you, do cross the line and ask to leave with it!

No talking on the phone while at the table. Nothing is more obnoxious than someone thrusting a glass in your face, motioning for a pour, while chitchatting on the phone!

And very importantly, DO NOT GET WASTED (see DO's #5). While it is tempting to get a buzz on, nobody likes a drunk at a tasting, especially the winemaker or the staff pouring. It ain't an open bar. It's a professional gathering. Do not be that dude stumbling around, slurring and falling onto the tables. Be composed!
---
We look forward to seeing you at RAW on October 24 and 25. Domaine de la Cadette, Domaine Chamonard, Domaine Barmès-Buecher, and Valentina Passalacqua will be on hand. It will be a great show!
---
Santé,