ENCORE SOIF ?
1 février 2019
UNDER THE INFLUENCE : A Few Food and Wine Resolutions for 2019
Or, The Ted Steele Partial Guide to Guilt-Free Pleasure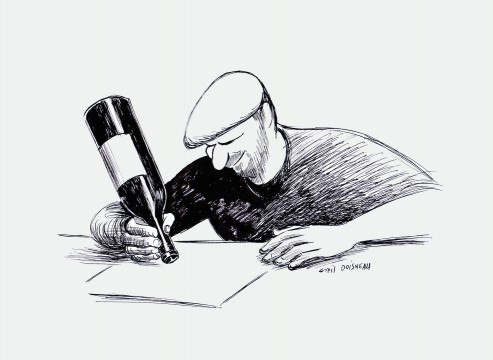 I know, resolutions are rather useless, but the exercise is actually quite fun. Even though we rarely keep them, planning our best intentions is a worthwhile effort. The resolutions we make highlight the spirit of who we want to be. Whether or not we keep them is another question altogether. Let us not confuse resolution with resolve!
Here are but a few of mine that involve the illustrious world of food and wine. The idea is to maximize pleasure, while minimizing guilt!
Eat less meat, more legumes and pulses. It's winter, and we want the comfort of braised beef, but your vegan friend busts your balls. Curried chickpeas with lots of fresh coriander is the answer. Pair it with the Tetramythos Malagousia.
---
If you have to eat meat, and you should, buy the good stuff that is raised on pasture without hormones and antibiotics. Eat less of it and add it to something substantial, like dried beans, artichokes or fava beans. Braise pork with lots of artichokes and celery for example. Good suppliers of ethically raised/clean meat are Porc Meilleur, Boucherie Lawrence and Pascal Le Boucher. A nice Grenache from the Rhone Valley will hit the spot.
More exercise. Yeah, yeah, we all want it, but who the fuck wants to go the gym? Did you know that simply walking around the block after dinner every night greatly improves your metabolism, and helps digestion at night? A wise Rasta once told me this. Try it!

Drink less wine. Simply pace yourself by not drinking on Monday, Tuesday and Wednesday. Only one glass on Thursday. Then half a bottle on Friday, and go to town on Saturday. Sunday is for using your best judgment. If it's you and the cat, go dry. But if it's Family Dinner, pretend it is Saturday.

Drink more wine with low alcohol. There is lots of great wine that is 11%-12% ABV. You don't have to sacrifice flavour for buzz. Look for producers in cooler climates like the Loire Valley. If you need more buzz, smoke some weed with your Vouvray, it is a wonderful pairing.

Eat more fish. Not farmed salmon though, that sucks. Try salt cod from Atlantic Canada. It is so versatile, and when properly done, even the most ardent of "fish haters" will love it. I have a Greek recipe that is awesome. It is cooked in the oven with a spicy tomato sauce, potatoes, capers and a ton of garlic. Drink with a structured rosé. Which brings me to my next point.

Drink more Rosé. Not that insipid shit from Southern France that costs 10$ and has more SO2 than grape in it (in France you can buy it in 6-packs for 3 euros.) I'm taking about the GREAT rosé of Corsica (Canarelli, Arena); Bandol (Tempier, Pibarnon); Provence (Chateaux Ste-Anne) and Rosatos from Sicily (Calabretta, Bonavita) and the south of Italy at large.

Embrace the APERO religiously. I just got back from France where the Apéro is serious business, as it is in Italy, France, Greece…you get the idea. It's about taking the time to chill out over a few glasses of wine and some olives, charcuterie, anchovies, etc. before dinner. A meal is incomplete without it.

Invite friends for dinner as often as possible. Nothing says "I love you" better than a home-cooked meal with good wine. More and more people have less time to cook in this rat-race of a world we live in, so dinner parties are a great way to invest your time properly in the art of cooking and hosting.

Learn how to bake bread. My wife highly recommended it to me last year, and man, has it ever increased my quality of life. There is something soothing about kneading your dough, watching it rise slowly, and then popping it into the oven. The smell of freshly baked bread is up there with bacon in the morning and a wet meadow in the spring.

Buy the first round. My grandfather always said a true gentleman buys the first round, and sets the tone for the evening at hand. Be generous and get the party started.

Cellar more wine. And I don't mean expensive stuff you'll never open because you're always fretting about whether it is the right time to or not! I'm talking about good solid bottles from terroir that is age-worthy, like Naoussa, Roussillon, the Langhe or Dogliani. I recently had a Langhe Nebbiolo 2007 from the Produttori that I paid 25$ back in the day. It drank like Carl Lewis jumping out of the gate! So many "modest" wines benefit from a few years in the cellar. Which brings me to my next point again.

Start a cellar. If you don't have one, you are missing out one of the great joys of life. I love collecting wine, whether it is the inexpensive stuff that tastes better the next year, or those precious gems that need to be tucked away for your grandchildren. As your collection grows, it feels almost like your family is getting bigger. And when you need some solitude, hanging out in the cellar is a nice getaway. If you do not have room for a cellar, get a good wine storage unit that can hold at least 120 bottles at a proper temperature and humidity.

And lastly, share your best bottles. The greatest bottles of wine are only as great as the company with which you enjoy them. Always keep that in mind. For there is nothing sadder than drinking great wine alone.
Santé,
Theo