UNE BOUTEILLE AVEC
26 avril 2019
BOIRE VRAI AVEC CÉZANNE PREST-DIAMANTIS !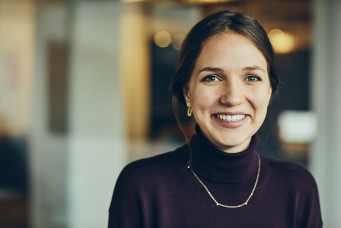 © photos par Maude Chauvin
Cézanne, c'est tellement de choses en même temps. La maman du bureau, l'œil esthétique, la rigueur derrière les chiffres. Sous ses 100 chapeaux, elle peut sembler calme et réservée, mais détrompez-vous! Derrière cette âme chaleureuse se cache une femme witty et bien entêtée. Et oui, tu veux être son acolyte pour l'apéro; elle spot toujours les belles bouteilles.
---
---
Journal Boire Vrai: Comment es-tu tombée dans le monde du vin ?
Cézanne : I was lucky enough to grow up in the wine world. Being Theo's daughter I was exposed to good wine and food from day one. I remember going to house parties when I was 16 (ahem!) and bringing a bottle of Bisol to pop open instead of the Smirnoff Ice my friends were packing. The snob in me was inevitable.
JBV : Quel a été ton premier contact avec le vin « vrai » ?
CPD : Despite having always drunk good wine, it wasn't until 2011 that I had my wine awakening. Oenopole was still operating out of my parents' house and they were hosting a tasting event for some of Montreal's best sommeliers, Le jugement de Parc-Ex. I was fortunate enough to taste some ridiculous bottles that day, such as Burgundy from Jobard and Bizot and a Barolo from Mascarello. The bottle that really blew me away, however, was a 2006 Chant des Oiseaux from Schueller. That wine was so electric and alive. It absolutely moved me. That being said, when we tried it again 10 minutes later, it was already dead. Such is the thrill of Schueller's wines. I decided then and there that I wanted to truly immerse myself in the wine world. It was something that was living.
JBV : Comment oenopole est arrivé dans ta vie ?
CPD : As mentioned above, I grew up always drinking oenopole. My problem, if you can call it that, has been that oenopole was my only reference. When I worked in restaurants, it would always be joked about that I only sold oenopole wines, but those were the wines that I knew deeply and could talk about with passion.
---
My husband, who is forever reading about wine and checks all the wine agencies' pricelists daily (nerd), is the one who exposes me to wines outside of our portfolio. We aren't big drinkers, but he makes sure to open a bottle or two a week for us to discover. I used to think that I was the one who introduced him to the intrigue of wine. How the tables have turned!
JBV : Quelle a été ta plus belle rencontre vigneronne ? Pourquoi ?
CPD : Oufff. As Martin said in his article, that is a tough one! Every winemaker we meet has his or her own charm. Whether it is the mixture of Jean-Paul Daumen's intellect and warmth; the gentil giant persona of Loic Roure, the quarky rapport between Catherine and Pierre Breton; Antonio Cascarano's boisterous personality; or the humbling grace of Elena Pantaleoni and Elisabetta Foradori; meeting each one makes drinking their wine just that bit sweeter!
If I had to choose one meeting, however, it would be the time my dad and I visited Filippo Filippi in Soave. He brought us on a tour of the vineyard, which is at the very top of a secluded hill (400m above sea level). We came in and out of woods to find old vines of Garganega and the most spectacular views of the valleys below. We then visited the cellar where he had old Amarone still aging in barrels. We stayed for supper and ended up being joined by another 10 or so guests. I remember us sitting around a table in the dimly lit dining room, eating amazing mortadella, someone cooking fish in the massive fireplace, and the guests bursting into song and dance on several occasions. Filippo had already given me the impression of being Viking-esque, but that evening in his villa really amplified the feeling that time had stopped on that hill.
JBV : Quel a été l'accord met et vin le plus marquant ?
CPD : Two meals come to mind and surprisingly both are Radikon wines. The first was a veal dish Rob and I shared at St-Vincent in San Francisco paired with Sasa Radikon's Pinot Grigio. I don't remember what the dish was composed of exactly but I remember that evening being magical and wishing the bottle never ended. The second was five weeks after our baby was born. Rob made pork chops smothered in onions and we opened a bottle of the Oslavje. The 500ml was the perfect format to share with a nursing mother and the pairing was perfect.
JBV : Si tu avais à travailler la vigne, où irais-tu ?
CPD : If I wasn't afraid of heights, I would want to work alongside Elisabetta Foradori in Trentino-Alto Adige. I've never been, but holy smokes does it look amazing. That or on Etna. There is something crazy and exciting about growing grapes on an active volcano.
---
JBV : Si tu étais un vin, lequel serais-tu?
CPD : I feel like saying Le Petit Tetu by Jean-Marie Berrux or a chalky Vouvray by Sebastien Brunet. Something with mouth feel, full of minerality and zesty acidity. Not sure if that represents my personality, but it's definitely what I like to drink. I can be quite stubborn too… so if the name fits.
JBV : Quel est ton légume préféré ?
CPD : Red bell peppers are technically a fruit, but lets not get too fancy here. I could eat them all day, everyday. They are a burst of energy. Green peppers are the worst, though.
Plus de portraits à venir! En attendant, voici la grande famille oenopole !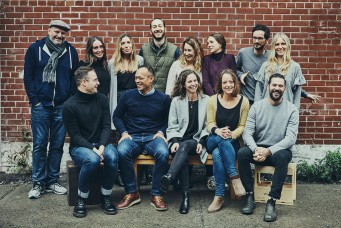 © Photo par Maude Chauvin