Under the Influence
5 octobre 2018
UNDER THE INFLUENCE : Road to Damascus Wines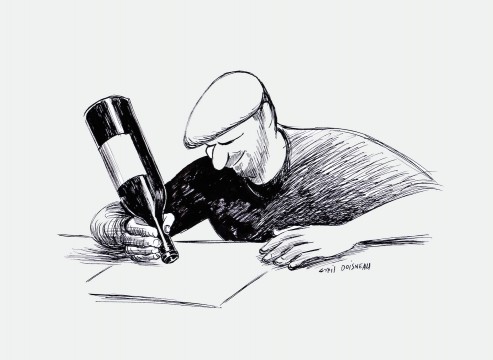 I'm not a religious person, but there are some great stories in the bible, and one I like in particular is about St Paul with reference to his experience while travelling to Damascus.
The expression "Road to Damascus" refers to a sudden turning point in one's life. It's in reference to the conversion to Christianity of the apostle Paul while literally on the road to Damascus from Jerusalem. Prior to that moment, he had been called Saul, and was a Pharisee who persecuted followers of Jesus. A bright light in the sky while on the road blinded him, and after much thought and prayer, he became one of the prominent Christians who preached and converted people throughout the first century AD.
The expression means a watershed moment-- a point at which people fundamentally change their minds, their direction suddenly shifts, and nothing will be the same from that time forward. This experience can relate to anything in one's life, whether it be politics, culture, food, fashion, and even taste in wine.
Like many people who drink wine, my first relationship with wine was abusive. I wanted to be beaten up by big, inky, tannic red wines. The bigger the fucking better. 14%, nay, 15% alcohol please! Let's get wasted! I wanted my money's worth, and that meant obviousness. White wine was for weak people. Rosé for losers. If the wine didn't stain my teeth, it was obviously not good! But after years of fighting with brawny Shiraz and toasty Chardonnay, I needed a way out. I needed to find my wine road to Damascus.
That was the day a friend brought over a bottle of Morgon Marcel Lapierre, a wonderful, unsulfured Gamay that helped start all the rage with natural wines. The first sips were confusing; it was so easy-drinking you forgot you were drinking it. The bottle went down with a thirst quenching ease that was obviously dangerous. Instead of aromas of vanilla, coffee, toast and Dr Pepper, there were pretty notes of violets and peppercorns, cherries and earth. And while the tannins were mellow, they were fine-grained, and washed down with a refreshing acidity that had you coming back for more and more. You felt great, not like you just finished a round with Mike Tyson.
I wanted to drink more of these wines. I wanted to learn more about what goes into the bottle, how the winemaker tends his wines, how he makes his wine, and what he eats with it. I no longer needed to know how many points the wine got. I wanted to know how DRINKABLE it was…
The trickle-down effect of that bottle put me solidly on a road that included pit stops chez Thierry Puzelat, Dard et Ribo, Grammenon, Bruno Schueller, Francois Ganevat, Radikon, La Stoppa, Occhipinti, Christian Binner, Philippe Pacalet, Guy Breton, Cyril Fahl, and ouf, so many more. Moreover, I drink far more white than red these days, and plenty of rosé all year long. When you have access to the whites of Beluard, Julien Labet and Haridimos Hatzidakis, you don't need much else!
These wines have become classics now in the so-called natural wine world but for me they will always be Road to Damascus wines.
Let me know which were yours, write me at theo@oenopole.ca
Santé